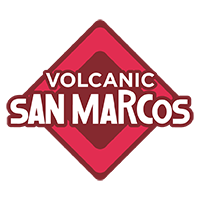 The warmest of the eight coffee-growing regions, San Marcos also has the highest rainfall pattern, reaching up to 200 inches (5,000 mm).  The seasonal rains come sooner than in other regions, producing the earliest flowering.  As in all of Guatemala's remote regions, most of Volcanic San Marcos is cultivated on farms with their own processing mills. Because of the unpredictability of rainfall during the harvest season, much of the coffee is pre-dried in the sun and finished in a Guardiola dryer.
Region profile
70 - 81ºF
160 - 200 in
70 - 80%
4300 - 6000 ft
San Marcos in the cup
Delicate floral notes present in aroma and taste, pronounced acidity, and good body.
Coffee regions